The Gentle Soul - Reviews
CD re-issued by Sundazed
(www.sundazed.com)



#116 February/March 2005

The Gentle Soul
The Gentle Soul
"Rick Stanley may not be a household name in the world of folk-rock, but he's paid his dues and he's still making wonderful music. As a singer/songwriter back in the 1960s, he hooked up with Pamela Polland and formed The Gentle Soul, a dreamy and love-drenched musical duo whose inspiration for songs and harmonies came chiefly from the Everly Brothers. The Gentle Soul became somewhat of a legend around the Los Angelsa area due to their frequent bookings at the famous Troubadour nightclub in 1966 and 1967. With a contingent of loyal fans and friends like Jackson Browne, Ry Cooder, and Linda Ronstadt, and getting a record deal on Columbia with Terry Melcher as producer (the Bryds and Paul Revere and the Raiders), it looked like The Gentle Soul was going to go all the way to the top of the pops. Alas, it was not to be. The band lasted only until 1969, when Stanley and Polland split up to pursue new spiritual and musical directions, and The Gentle Soul was no more.
Sundazed Records has re-released The Gentle Soul, a 1968 album which is beautiful, ornate and captivating, and certaily captures the optimistic vibe of the time.
The lead-off instrumental track "Overture" is a good example of what TGS could do in the studio. Using some of the best session musicians of the era like Van Dyke Parks, Larry Knetchel, Jerry Cole, Hal Blaine, and Ry Cooder, Melcher and the band arrange harpsichord, flute, string quartet, country guitar, and soft zen cymbals to create a Renaissance/Baroque/hippie soundtrack which is dazzling in its depth of production. "Our National Anthem," which was thought by everyone to be a surefire Top Ten single, fizzled out when it was released due to lack of promotion and touring. Listening to the song now you can't help but be swept up in the dreamscape-utopia visions of Stanley and Polland, and their vibrant singing, which sounds at times like the Mamas and Papas blended in with Spanky and Our Gang."
T.J. McGrath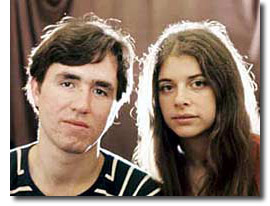 "Once again, Sundazed has uncovered a long-lost, barely remembered classic from the '60s. The band - essentially the singing and songwriting duo of Rick Stanley and Pamela Polland along with the support of such renowned sessioners as Ry Cooder, Van Dyke Parks, Larry Knechtel and Jack Nitzsche - made a single record, and it's a goodie. Combining coffeehouse folk and sunshine pop with a daub of psychedelia, The Gentle Soul recalls a time when innocence did not necessarily mean inane and soft rock did not necessarily mean softheaded. Terry Melcher's billowy production - all perfectly plucked acoustics, chiming harpsichords and trilling flutes - fully complements Stanley and Polland's close harmonies, which paint bright aural colors on songs like the woozy "Young Man Blue," the delicate "Renaissance" and the soaring "Flying Thing," written by onetime member Jackson Browne. The Gentle Soul is not exactly groundbreaking, but it's certainly as uplifting now in the apocalyptic '00s as it was in the turbulent '60s."

Eliot Wilder of amplifiermagazine.com






"Sundazed have done a fantastic job in reissuing the lost 1960s folk rock gem that is the Gentle Soul. Thriving in the vibrant mid to late 1960s folk rock movement, Pamela Polland and Rick Stanley of The Gentle Soul hung out with the likes of Neil Young, Jackson Browne (there's an early tune written by him as one of the bonus tracks here), The Byrds, and Tim Buckley, and worked with the likes of Terry Melcher, Jack Nitzsche, Ry Cooder (whose incredible guitar playing is throughout this cd), Van Dyke Parks, Larry Knechtel, Jerry Cole and Hal Blaine. Amongst this incredible scene of creativity, The Gentle Soul released one album and a handful of singles, but never had the push they needed or any luck with sales. Their recordings became more and more scarce through the years, the album even becoming a collector's item with a 3 figure price tag.
Thanks to Sundazed, we've got the entire recorded output of The Gentle Soul, as well as three previously unissued sides all on cd for the very first time. The cd has the entire album first, then the singles and unreleased tracks, so it doesn't play chronologically. The singles (tracks 12-14, 17-18) have a slightly more rocking sound then the gently orchestral album, but the singles are by no means rock-n-roll.
Tell Me Love is an incredible single which has an alternate take too, both arranged magically by Jack Nitzsche. Both mixes are quite different and shed a different feel on the melodic celtic lilt. The single mix has a harder hitting sound, but the alternate version has a fuller, modern sound. The first single's b-side, You Move Me, has that coffee house folk rock sound and Mamas and Papas styled harmonies and is tremendous. The second single, Our National Anthem should've been a hit, and it's a astonishing it was not. It's also got that Mamas and Papas anthemic folk rock feel, but maybe it's the fact that the chorus is not as out right sing-a-long-able is what kept it off the charts. It's still a catchy as heck folk rock number. Song For Three, its b-side has a Dylanesque melody about a girl named Wendy. The final single, 2:10 Train has a more country folk sound and is a bit meandering, sort of like Linda Ronstadt and The Stone Poneys.
The Gentle Soul album (tracks 1-11) are wonderful orchestrated folk rock. Pamela Polland and Rick Stanley combine incredible vocal harmonies with some great original tunes, which are only improved upon thanks to the production of Terry Melcher and instrumentation from the likes of Ry Cooder and Van Dyke Parks. Songs like Renaissance or Love Is Always Real (which also has an alternate take as a bonus track) are baroque and orchestrated with harpsichords and flutes. The melodies they came up with just enhance the whole proceedings. Generally speaking the songs with Pamela singing come out on top and remind me at times of the Michelle album Saturn Rings. At times this album reminds me of Belle and Sebastian or their side project Gentle Waves (rather fitting) - if they were more inspired by traditional folk music instead of Nick Drake. If you want to hear Ry Cooder at his most pronounced, check out the instrumental album opener Overture or the haunting song Reelin'. If I were to pick a favorite song, it would have to be See My Love - which to me sounds like it could be straight off a Belle and Sebastian album with it's melody, piano and Pamela's light as air lead vocals. It's the closest they come to rocking out.
I was very glad when I learned that Sundazed were going to reissue The Gentle Soul album. I'm glad that more than just the collectors can hear the magic held in this delightful folk rock album. Hopefully, it can find a place in your collection too."
Patrick of Gullbuy.com


Recent Review in All Music Guide:
"The Gentle Soul's sole album is suffused with pretty and wistful folk-rock tunes, deftly produced by Terry Melcher to incorporate dreamy orchestral instrumentation -- harpsichord, flute, and cello -- while retaining an understated subtlety. If you like the Stone Poneys, who made similar material in the late 1960s, there's no way you're not going to like this album. If you're sitting on the fence after that conditional recommendation, it might be too mellow for your tastes. If you want to know how exactly it might differ from the Stone Poneys, it's a little more on the soft-rock side, and definitely heavier on the male-female harmonies. All of which might be underselling the record, which is pretty attractive, though not astounding, on its own terms. That's probably Ry Cooder making his presence felt on the gutsiest and bluesiest tunes, "Young Man Blue" and "Reelin'," both of which feature excellent acoustic slide guitar. Although Pamela Polland and Rick Stanley sing and write well together, it's Polland whose personality comes through stronger, particularly as she takes the occasional unharmonized lead vocal and is the sole composer of one of the record's strongest tunes, "See My Love (Song for Greg)." Is this worth the three figure prices it commands on auction lists? No. But what is? It's decent music if you can get it.
It was finally reissued on CD by Sundazed in 2003 with the addition of nine bonus cuts, including all five songs from their late-'60s non-LP singles, an alternate take of the single "Tell Me Love," and three previously unreleased outtakes, among them the early Jackson Browne composition "Flying Thing." With the exception of a bluesy 1968 version of "2:10 Train" (also covered by the Stone Poneys and the Rising Sons), most of these have a poppier sound than the album, sometimes showing the influence of the Byrds and the Mamas & the Papas in the harmonies and guitar parts."

Richie Unterberger, All Music Guide


A Review of the Original LP The Gentle Soul:
"The Gentle Soul were the singing-songwriting duo of Pamela Polland and Rick Stanley, and made one LP for Epic in 1968 that bridged the folk-rock and singer-songwriter/soft rock eras. The self-titled album, despite coming out on a major label, is extremely rare, and has never been issued on CD. Produced by Terry Melcher (the Byrds, Paul Revere the Raiders), it had quite a stellar supporting cast of session musicians, including Ry Cooder on guitar, Van Dyke Parks on harpsichord, Paul Horn on flute, and Larry Knechtel (later a founding member of Bread) on organ, plus noted arranger Jack Nitzsche. A nice, though not major, effort, it was indeed a gentle record, usually paced by the close male-female harmonies of Polland and Stanley; they also wrote most of the songs, usually but not always as a team. The folky and acoustic-flavored, but not totally acoustic, ambience and harmonies recalled the Stone Poneys. The balance between male and female vocals, however, was naturally far more even than it was with the Stone Poneys, who were dominated by Linda Ronstadt even on the numbers with harmony lead vocals. Another reference point, though far more obscure, would be the Bay Area folk-rock duo Blackburn and Snow, although the Gentle Soul were more subdued, in fact foreshadowing the soft rock of the early 1970s.
Prior to the Gentle Soul, Pamela Polland had already begun to establish herself as a folk-rock songwriter, placing her compositions with the Rising Sons ("Tulsa County") and, as a matter of fact, the Stone Poneys, who did her "I've Got to Know" on their second album. ("Tulsa County" was later covered by the Byrds and Jessie Ed Davis.) She and Stanley recorded two singles for Columbia, "Tell Me Love" and "Our National Anthem," prior to the release of the Epic LP. The Gentle Soul were together for about three years, during which they employed various musicians as accompanists, including Jackson Browne (who actually replaced Stanley for a brief period, though he never recorded with the group) and drummer Sandy Konikoff (who had played briefly with Bob Dylan in the mid-1960s). Epic couldn't have promoted them very heavily, though. Not only is the album scarce, but the label did not even list Polland and Stanley's names on the sleeve, although at least there was a picture, and the names "P. Polland" and "R. Stanley" dominated the songwriting credits. Polland recorded solo material for Columbia in the 1970s, and was still recording in the 1990s."
Richie Unterberger, All Music Guide